If you're trying to lose weight, or you're concerned about longevity, just remember this phrase: Kale is king. This delicious kale smoothie has been developed to help you with weight loss and increased longevity.
Kale is King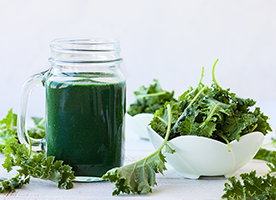 Kale is king because it's the king of superfoods. It is part of the cruciferous vegetable family, along with broccoli and cauliflower, kale, mustard greens. But per cup, there's nothing more powerful than kale. It contains about 33 calories per cup and is loaded with vitamins A, K, C, B6, calcium, copper, potassium, magnesium (which is the number one mineral deficiency in America), manganese, omega-3 fatty acids, lutein, quercetin, kaempferol, and zeaxanthin.
Kale helps with blood sugar, blood pressure, and even cardiovascular disease. It can reduce bad cholesterol by 10%, and increase good cholesterol by 27%. It also helps with fullness and is a great source of fiber. It's prebiotic, so it helps to develop those healthy bacteria in your gut. Kale helps with detoxification as well, which is important for any weight-loss program detox. It also contains sulforaphanes and glucosinolates which help with the process of the liver detoxification.
Delicious Kale Smoothie For Weight Loss
When most people think about kale they think, "Oh, it's a dark leafy green. I don't want to eat kale, I don't want to eat dark leafy greens." So, here's a fast, easy, and delicious smoothie to save the day!
So we're going to add two handfuls of kale. You can add something sweet, like frozen berries, to counteract the bitterness that sometimes kale can have.
Next, add just a pinch of chia seeds for fiber and omega-3 fatty acids. Then, add a pinch of flax seeds. The fats in the chia seeds and the flax seeds actually help to absorb some of those fat-soluble vitamins in kale, like vitamin A, K, and D.
For liquids, use coconut milk. Coconut milk is really high in MCT (medium chain triglycerides), which have been shown to help with weight loss. It'll also make this smoothie taste like a milkshake.
Then, add kefir as a secondary liquid that's rich in probiotics. Studies have been shown that healthy bacteria growing in your gut can actually help you to lose weight.
It is recommended to drink this smoothie three to five times a week, at least. You can use it as a post-exercise replenishment or as a breakfast replacement.
So thanks so much for turning into our kale super smoothie drink to help with weight loss and longevity. Make sure to like the page, share it with your friends and loved ones. Hit the bell to get notifications, subscription updates.
I've also made a couple of other smoothie recipes that you should check out, for weight loss, for longevity. This is just one of three and I encourage you to look at the rest of them.
Thanks so much for joining me, I'm Dr. Ryan Shelton.